Welcome to the Mainwaring Arms.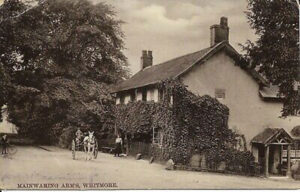 The Mainwaring Arms was founded in circa 1850. The pub sits proudly on the Whitmore Estate in the village of the same name, adjacent to the beautiful village church of St Mary and All Saints. In the distance is Whitmore Hall, the seat of the Cavanagh-Mainwaring Family, who name the Mainwaring Arms after their famous ancestor Admiral Rowland Mainwaring.
The Mainwaring surname (pronounced Mannering) was made even more famous by David Croft's comedy called Dad's Army, which featured a rather characterful Captain Mainwaring of course!
The Mainwaring Arms has been operated by many people in the past and is now under the leadership of Tim Bird and Mary Mclaughlin and their award-winning pub company Cheshire Cat Pubs and Inns, which boasts two pubs in Staffordshire and five in Cheshire. The Mainwaring Arms has a 'big sister' pub in the nearby village of Swynnerton, called the Fitzherbert Arms, rescued from closure by Tim and Mary nearly six years ago.
The Mainwaring Arms too fell upon hard times, closing its doors in late 2019. Sadly, due to the pandemic any possible re-opening was delayed. But now it sits proudly on the corner of Whitmore Road and Three Mile Lane at the centre of the village again.
The village boasts some lovely walks and is a great place to get out to and shake those cobwebs off! The pub champions local ales, only brewed by local microbreweries, it has a great selection of rums, paying homage to Vice Admiral Mainwaring and the Royal Navy he served in, as well as other interesting small batch spirits.
Fresh, local food is at the heart of what we do and our team are here to look after you in a warm 'home from home' way, in a beautiful, cosy, characterful pub.
We look forward to seeing you soon.